Homeschool and Make Money at Home
Have you ever wished you could homeschool and make money at home, or have you thought about starting your own home-based business? 
Surprisingly, many people wish they could.
According to a recent Harris poll, over 72% of American households are thinking of starting a home-based business.
So, you are definitely NOT alone!
Both my husband and I work from home and even during tough financial seasons, we wouldn't change it for the world.
Although working from home has some disadvantages, it certainly does provide many wonderful perks.
Work at Home Benefits
Working from home provides increased flexibility, to work around your family's schedule and/or homeschooling. You enjoy the freedom to arrange your day and take time off, whenever needed.
When I started working from home, I first wondered how I could homeschool and make money at home, while still getting all the household chores done. You know what I mean… laundry, cooking, shopping for food, and keeping everything clean and organized.
So... How do homeschool and make money at home?
I must tell you, it's not always easy. I constantly have to change my routine to meet the needs of my growing family and ever-changing circumstances.
My family is also a big help.
I found it easiest to homeschool and make money at home when we had only two children and both were in upper elementary school.
I would work at the table with them, while they did their schoolwork.
With the birth of our two youngest – now six and two years old, homeschooling got a little crazy and so did my work schedule.
The Struggle to Keep Family First
For a couple of years I continued to work during naps – my children are good nappers, so I always got some work done.
However, once they started to outgrow their naps, and got busier, my work time decreased. I struggled with keeping up with everything and even considered giving up trying to both homeschool and make money at home.
Until, I found the most wonderful solution.
The Answer
Two years ago, I re-stumbled upon a company called Sitesell, that provided the answer I was looking for. I actually purchased an ebook a year or so before (2006), written by Sitesell's president, Ken Evoy, that helped me tremendously with writing web copy.
At the time, I even looked at other services his company provided, but I guess I didn't get it. Maybe, it just seemed too simple.
Until June of 2007, when I took a more in-depth look. What I discovered, blew me away, and you know what else? It's so easy, anyone can do it...
Welcomed Relief
Sitesell, or SBI! was a welcomed relief for me... everything you need to build a website, and online business, is provided under one "roof".
Many of the online tools and services that are included, I was already paying for, so I saw the value instantly.
SBI! has not only provided an easy way for me to continue to homeschool and make money from home, it saves me money. I was able to cancel my subscriptions to other services, saving me and my home-based business thousands of dollars per year.
Complete Home-based Business Solution
When starting a business at home, or trying to work from home, you have many things you need to think about. Family, customers, a website, advertising, selling (yikes!), and more!
Some people give up because the thought of learning everything would take way too much time and is overwhelming.
SBI, short for Site Build-It offers everything anyone needs to do business online AND everything works seamlessly together.
Simple Solution for Newbies and Pros
Solo Build It! benefits both newbies and experienced entrepreneurs alike... providing everything, and I mean EVERYTHING, you need to start or grow asuccessful AND profitable online business... and the best part?
As a homeschooling stay at home mom or dad, you can build your business from the comforts of your home, around your family's schedule.
So, yes, you and I can homeschool and make money at home! 
Check Out Another Family's Story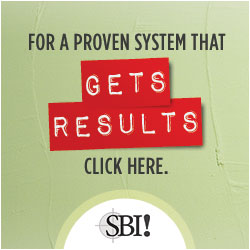 Home

›

Homeschool and Make Money Info
› Homeschool and Make Money at Home